AR, the new marketing strategy
Did you know that augmented reality is becoming a new marketing strategy for businesses? It's true! Augmented reality can help you create a more immersive experience for your customers. With augmented reality, you can make your products and services more engaging and interesting. Companies that embrace augmented reality as a marketing tool stand to gain a competitive edge over those that do not.
In this blog post, we will explore the basics of augmented reality and discuss some of the ways businesses can use it to enhance their marketing efforts. Are you ready to learn about the next big thing in marketing? Let's get started!
Augmented reality
Augmented reality (AR) is a technology that allows users to superimpose computer-generated images and information over their view of the real world. This can be accomplished through a variety of devices and platforms, including smartphone apps, dedicated AR headsets, and even video game consoles.
AR has been used in a variety of settings, including gaming, education, and marketing. This technology has been used in a variety of marketing campaigns, from branded filters on social media to interactive in-store displays. AR provides a unique way for brands to engage with customers and create an immersive experience that can lead to increased brand awareness and sales. As AR technology continues to evolve, we will likely see even more innovative and effective marketing campaigns using this cutting-edge technology.
Augmented Reality in Marketing
As marketing strategies continue to evolve, so too does the role of technology. Augmented reality (AR) is one of the latest innovations to enter the marketing realm, and it has the potential to transform the way businesses connect with their customers.
AR allows users to interact with digital content in a real-world environment, bringing products and services to life in a way that is highly engaging and immersive. Perhaps one of the most exciting applications of AR in marketing is its ability to bridge the gap between online and offline experiences. By bridging this gap, businesses can provide customers with a more seamless and cohesive experience that enhances their overall brand experience.
For example, a customer looking at a car in a showroom could use AR to see what the car would look like with different paint colors or features. AR can also be used to create immersive environments, such as entering a virtual showroom or test driving a car from the comfort of your home. With the rapid advancement of AR technology, businesses are only limited by their imagination when it comes to marketing potential uses for this powerful tool.
AR also has the potential to create more personalized marketing messages, as well as drive sales through interactive product demonstrations. As consumers become more comfortable with AR technology, we will likely see an increase in its use across marketing channels.
How a business can use virtual reality? 
We can see the AR strategy being used in many ways, one way is by implementing it through our social media pages. We share some great ideas but again everyone's imagination is limited when they think about technology and what can be done with augmented reality!
Try products before a purchase 
Can be used in marketing to allow customers to try products before they make a purchase. This is especially useful for products like clothes, makeup, expensive garments, shoes, and more. AR can give customers a realistic preview of what they would be getting if they made a purchase.
This can help them make an informed decision about whether or not to buy your product or service. AR can also be used to show how a product works, demonstrating its features and benefits. This can persuade customers to make a purchase, as they can see the value in what you are offering. AR is a powerful tool that can be used to increase sales and boost customer satisfaction.
AR can also be used to enhance product presentations, giving customers a more in-depth look at its features.
AR marketing can help you to show customers how a product works, as well as provide a more immersive experience that can help them to understand the potential of the product. AR can also be used to show customers how a product might look in their home, providing them with an idea of how it could fit into their lives.
Augment branding materials
AR can also be used to augment branding materials like brochures and business cards. For example, you can include a scannable code on brochures that directs customers to an AR experience.
This can give them a more immersive and interactive look at your product or service. When used in conjunction with traditional marketing materials, AR can give your brand a truly unique and engaging presence.
Augment touring experience
AR can also be used as a tool for marketing and assisting customers. For example, AR can be used to create an immersive experience that allows customers to explore your store before visiting.
This could be especially useful for large stores or stores with complex layouts. AR could also be used to assist customers while they are in your store. For example, AR could also be used to provide directions or guidance to customers throughout the store. Ultimately, AR has the potential to provide a wide range of touring and assistance services that can improve the customer experience.
Augmented reality shopping
AR marketing is a new and exciting way for companies to engage with potential customers. By using AR, companies can provide a realistic and interactive shopping experience. Some pros of using AR in the shopping process are:
Allows people to see what a product would look like in their home or on their body before they purchase it.
Accessible from anywhere etches out the need to physically go to a store.
This is beneficial not only for the customer because it saves time, but also for the company because it means more potential customers.
Increase brand awareness and engagement, as well as the likelihood of purchase.
AR also provides a unique opportunity for companies to connect with consumers on a personal level.
Helps them to make sure that it is the right product for them.
AR also allows people to interact with the product, to get a sense of its size, shape, and feel.
This interaction is essential for many consumers, who want to be sure that they are making the right purchase.
AR provides a unique and interactive experience that helps people to make informed decisions about their purchases.
As consumers become more accustomed to AR, companies who embrace this technology will be well-positioned to capitalize on this trend.
Social Media Is Engaging Audiences With AR
One of the most popular ways to use AR in marketing is through filters. These filters can be used to add fun effects and animations to photos and videos, making them more eye-catching and engaging, and social media has been an important part of this brand strategy.
Snapchat was one of the first platforms to capitalize on this trend, and its filters are now hugely popular with users. Instagram has also jumped on the bandwagon, offering its version of photo enhancements that make use of AR technology.
Facebook and Instagram also created their filters, which compete with Snapchat and lure younger users back to its platform. By using AR filters, businesses can create an immersive experience that allows users to interact with their brand in a fun and interactive way. Additionally, AR marketing can be used to create unique and customized content that is highly shareable on social media. As more businesses begin to experiment with AR marketing, this trend will likely continue to grow in popularity.
Brands using virtual reality
Virtual reality is used in many different ways. Some brands use it for storytelling, where you get to explore an imaginary world and interact with characters on screen as if they were real; other companies want their customers to feel part of or found themselves transported somewhere else entirely. Giving a unique experience. Some brands applying this marketing strategy are:
Jack Daniel's
Jack Daniel´s AR packaging is a great example of marketing innovation. The brand created an AR app that turns the labels on its bottles into an immersive brand storytelling experience. By downloading the app, users could point their phones at any Jack Daniel's bottle and watch as it sprang to life before their eyes.
This is a great way to engage potential customers and create brand loyalty. Moreover, it shows that the company is always looking for new ways to improve its marketing strategy. This is a brand to watch out for in the future!
Häagen-Dazs
Häagen-Dazs' marketing campaign was a resounding success. Not only did it educate consumers on the best way to enjoy their ice cream, but it also sweetened the deal by offering a two-minute concerto timer.
Häagen-Dazs Concerto Timer app was simple to use and provided a great user experience. By scanning a package of Häagen-Dazs, customers were able to enjoy a two-minute concerto in perfect harmony. The marketing campaign was a great way to increase brand awareness and sales.
Coca-Cola and Spotify
Coca-Cola and Spotify's new marketing partnership is a match made in heaven. The soft drink giant has long been associated with music, and Spotify is the world's leading streaming service. Under the terms of the deal, Coca-Cola promoted Spotify on its cans and bottles, and Spotify created a special Coke-branded playlist.
This was a win-win for both brands, Coca-Cola gets to align itself with a cutting-edge service, and Spotify gets valuable marketing exposure. But the real winners are the customers, who were able to enjoy free music each week courtesy of their favorite soft drink.
Estée Lauder
Estée Lauder is one of the beauty brands to experiment with augmented reality (AR). The brand has developed a Facebook Messenger bot called Lip Artist that recommends a lipstick shade by asking consumers to upload a photo of themselves. From there, AR applies the shade of lipstick to a photo. Estée Lauder is also looking at the foundation as a way to let users experiment with augmented reality and find the right product for their skin tone.
This is an interesting marketing move by the brand, as it allows consumers to try out products before they buy them. This could potentially lead to more sales, as customers are more likely to purchase items that they know they will be happy with. It will be interesting to see how other beauty brands make use of AR in the future.
Pull & Bear
Spanish retailer Pull & Bear has partnered with Facebook's Creative Shop to launch an AR game called Pacific Game. The game, which is available to play through Instagram, Facebook, and the retailer's website, takes users on a virtual trip from California to Tokyo.
During the game, players must move their heads to dodge obstacles and collect points. By offering an engaging and interactive experience, Pull & Bear can reach out to potential customers in a fun and novel way. This form of marketing is sure to capture the attention of millennials and Generation Z, who are often difficult to reach through traditional marketing channels.
IKEA
IKEA's new Studio app is a marketing tool that allows users to see what IKEA products would look like in their own homes. The app uses LiDAR sensors in iPhones to capture 3D room plans and then lets users design the room, incorporating everything from windows and door frames to wall colors and rugs.
The app is part of IKEA's efforts to create an immersive and interactive shopping experience for its customers. These initiatives are part of IKEA's ongoing commitment to providing a customer-centric shopping experience.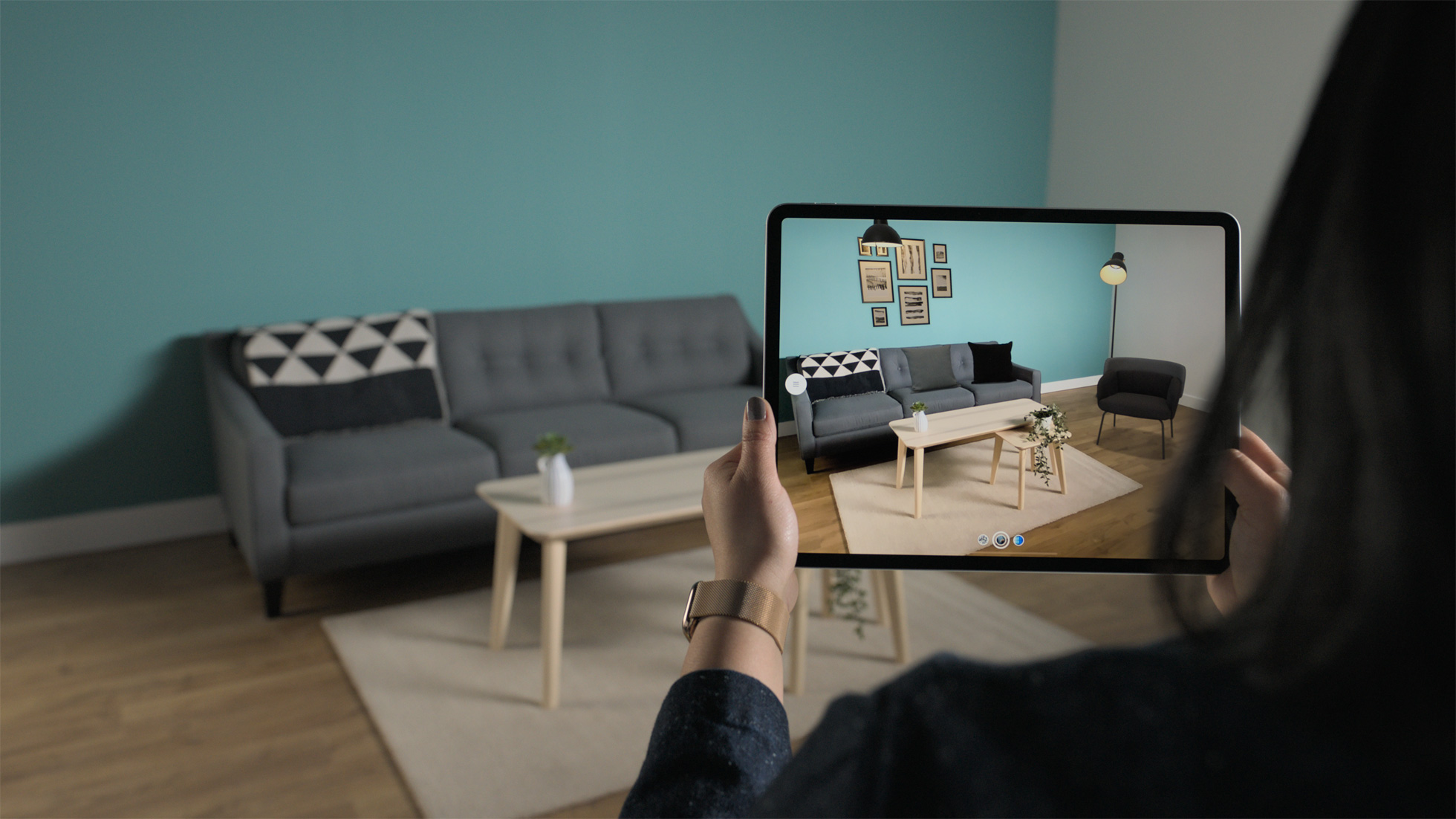 How augmented reality can help your Brand
But what exactly does AR help brands? The use of augmented reality in marketing strategies has been proven to be effective for a wide range of brands. The following are some ways that incorporating this form into your plan can help you achieve success:
AR provides a pleasant experience where a connection and interaction with the audience are created. Also, if the consumers find it a very pleasant experience, they will likely recommend it to their friends, which gives an increase in market reach.
Marketers are using AR for their strategies, as AR provides a 40% higher share of time spent on the app or app, increasing sales.
With the help of AR, brands can connect on a personal and emotional level with consumers, they can tell them stories, arouse emotions and even share moments.
Storytelling can be used to generate greater emotional attraction, and in this way improve the experience even more. In this way, consumers become more involved with the product and establish an emotional connection.
Brand awareness and sales
This strategy can reach already familiar customers or new customers, AR can help create brand value and better positioning, by having a differentiator over the competition.
Companies that have implemented AR in their applications or through another platform have increased their sales, which is almost certain to happen, but the strategy must be very well planned and linked.
Companies have also taken advantage of AR not only to reach their consumers but also to improve their relationships with their collaborators, interacting more and helping teams create experiences for their consumers, that is, the collaborators participate in this experimental process. An extra piece of information is that companies have made use of AR for staff recruitment.
AR allows brands to position themselves and show themselves as leaders in their category, making a difference in the market by showing how they use technology to provide a better experience to their customers, therefore, they will have a preference over others.In the same way, it can help to provide a higher perceived value to your product or service, by having greater interaction with the brand, it will increase its probability of purchase and therefore its value.
AR can be a powerful marketing tool for businesses if used correctly. AR can be used to create immersive and interactive experiences that allow customers to engage with your product or service in a new and unique way. Additionally, AR can be used to provide valuable information about your product or service in a way that is engaging and informative.
When used correctly, AR can create a memorable and positive experience for customers that will encourage them to purchase your product or utilize your service. Therefore, utilizing AR in your marketing strategies can be advantageous for businesses as it has the potential to boost sales and customer engagement.
If you're not using augmented reality in your marketing yet, it's time to start. Augmented reality can help you create a more immersive experience for your customers, which can lead to more sales.
At The Digital Haus, we can help you get started with this exciting and engaging new technology. Contact us today to learn more about how we can help you create an immersive experience for your customers that will set you apart from the competition, it's time to start.