Do you use Pinterest for business? If not, you're missing out on a major opportunity to connect with potential customers. Pinterest is a great way to build brand awareness and drive traffic to your website.
Pinterest is a social media platform where users can share images and videos of things they are interested in. It can be used for business purposes to promote products or services or to get ideas for future projects. By using Pinterest correctly, you can reach a large audience and generate new leads for your business.
In this blog post, we'll discuss some of the best ways to use Pinterest for your business. We'll also provide some tips on how to get the most out of this powerful platform. . Keep reading to learn more!
What is Pinterest?
Pinterest is a social media platform that allows users to share images and videos on virtual pinboards. Boards can be created around any topic, and users can follow other users' boards to see their pins. Pinterest also has a search function that allows users to find pins on specific topics.
The site is predominately used by women aged 18-54, who are interested in fashion, beauty, and home decor. In addition to being a popular source of inspiration, Pinterest is also a powerful marketing tool.
It is a highly visual platform that is popular with businesses and individuals for marketing purposes. Pinterest is a digital marketing tool that enables businesses to visually showcase their products and services.
Businesses can create boards that feature images and videos of their products, as well as links to purchase pages and drive traffic to their website. For example, many retailers use Pinterest to showcase their latest collections, and restaurants use the platform to share mouth-watering photos of their dishes. In recent years, Pinterest has also become a popular destination for wedding planning and DIY projects. Whether you're looking for fashion inspiration or creative ideas, Pinterest is sure to have something for everyone.
Customers can then browse and repin items that they are interested in. Pinterest is a powerful marketing tool because it allows businesses to reach a large audience of potential customers with minimal effort. In addition, pins are often shared across social media platforms, giving businesses even more exposure.
Pinterest terminology
Here are some key terms to know when using Pinterest for marketing:
Pins: Pins are the images or videos that users share on Pinterest. They can be saved to different boards, or collections of pins, on a user's account.
Boards: Boards are collections of pins on a specific topic. For example, a fashion board might contain pins with images of clothes and accessories.
Repinning: Repinning is when a user saves another user's pin to their board. This helps to expose the original pin to a new audience.
Following: When a user follows another user or board, they will see that user's or board's pins in their main feed. Users can also choose to follow specific topics, which will populate their feed with pins relating to that topic.
Liking: Liking a pin is similar to liking a post on other social media platforms. It lets the original poster know that you enjoy their content.
Pincodes: These are special codes (like QR) you can create to unlock selected boards and your business profile on Pinterest. You provide the code to the user and be taken directly to the board.
Feed: The group of pins you have in your Pinterest profile.
Why use Pinterest for business?
In recent years, Pinterest has emerged as an important marketing tool for businesses of all sizes. Here are just a few reasons why your business should be using Pinterest:
It is the fourth most popular social media platform in the US with over 235 million monthly international users.
Pinterest generates 3.8 times more sales than other platforms and 83% of users said they purchased a product they saw on Pinterest.
Pinterest's audience is: Half of all US millennials use Pinterest every month, and 66% of its global audience are women ages 25-54.
The areas of greatest interest on Pinterest range from fashion, food, cars, interiors, and travel.
Pinterest found that 93% of Pinners use Pinterest to plan purchases, which for businesses is a large number of users willing to make a purchase.
Pinterest is a highly visual platform, which makes it ideal for businesses in industries such as fashion, home décor, and food and beverage. High-quality images and videos are essential for driving engagement on Pinterest, and users are typically drawn to bright, visually appealing content.
Pinterest is a great platform for driving traffic to your website or blog. You can include links to your website in your pins, and users who click on those links will be taken directly to your site. This is a great way to increase web traffic and generate leads.
Pinterest is a great way to connect with potential customers. By sharing relevant and engaging content, you can build relationships with potential customers and create a loyal following.
Whether you're looking to increase web traffic or connect with potential customers, Pinterest can be a valuable marketing tool for your business.
Setting up a business Pinterest profile
To be able to create a business account there are several ways, the first is to convert a personal account to a commercial one, the second is to create a linked commercial account, and finally to create a commercial account.
The business account will give you access to "Pinterest Analytics", analytics provided by Pinterest, advertising tools, and more marketing options.
Create a new business account
To create a new business account not connected to a personal one, follow the steps below:
Go to Pinterest and create a business account
Place your email, create a password and enter your age.
Click Create Account.
Complete the information to find your business
Select if you want to post ads
Ready! you can start using your new business account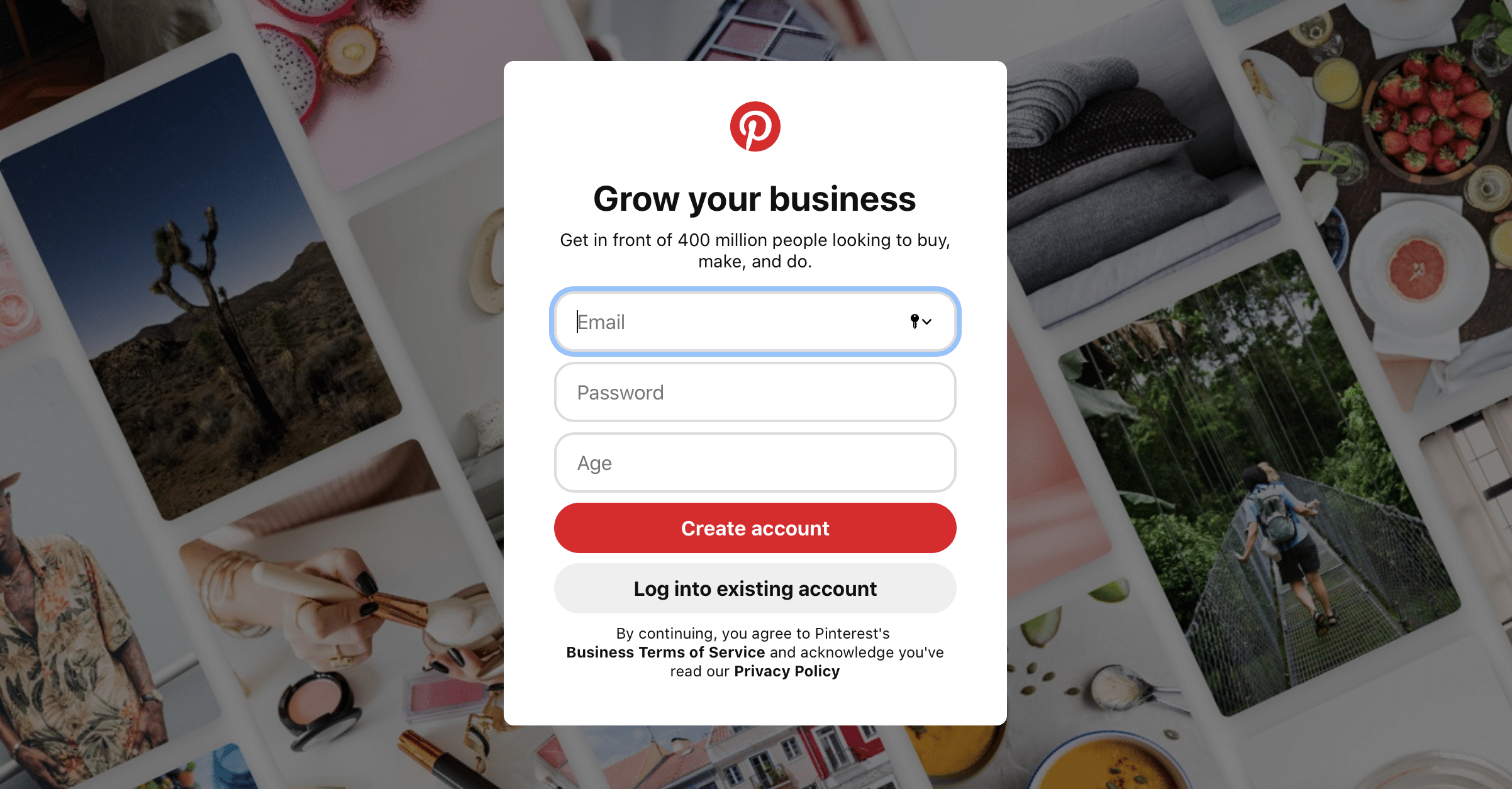 How to use Pinterest for marketing
Are you looking for a way to market your business that is both fun and effective? If so, Pinterest may be the perfect solution for you. We will discuss how you can use Pinterest for marketing your business.
Distribute your content
Visual content is king on Pinterest, 85% of Pinners search for and prefer visual content. Share your content on Pinterest boards. You can have as many boards, and organized them into ideas or plans that are organized for easy navigation through the site by those looking to find what they need!
Boards also allow you to invite others so it becomes a "group board", this is a great way to increase engagement and interaction on your profile.
Build a community.
Make your community an attractive place to be with boards that are interesting and helpful.
You can build a following of followers or fans on Pinterest who will interact with the content you share, making their way over from these sites eventually leading traffic back into yours!
You can build your following by searching for specific friends using their names or Facebook account. Promote yourself on other networks like Instagram: you never know who might follow back (and if they don't then you'll at least have an increase in followers). Use keywords throughout all posts so that people find what interests them most easily; this will help grow not only awareness about but also interest within any business/brand represented through pinboards as well due largely because search engines. And finally, pay for a Pinterest ads account to run ads on the platform and increase your brand awareness inside the app.
Educate customers
Educate your customers with educational content! Pinterest is full of tutorials, infographics, and how-tos that can help you achieve success. When creating or sharing this type of information for both personal use as well as marketing purposes.
Drive website traffic and boost online sales.
If you want to boost your online sales and website traffic, then Pinterest is one way of doing it. Pinterest allows you to link your visual content with another website. Not only does linking create more exposure but also helps build trust among consumers who may not know about all your products/services.
Create your Pinterest marketing strategy
As a business owner, you know that Pinterest is a powerful social media app. With over 175 million monthly users, there's a lot of potential for marketing your business on this platform. But where do you start?
First, you need to have a clear marketing strategy. What are your goals? Who is your target audience? What kind of content will you create? Once you have a handle on these basics, you can start creating pins that reflect your brand and appeal to your target audience.
One way to set goals is by the SMART method. Then you have to understand the general Pinterest audience and your target audience. Make sure to take into account what your competitors are doing on this platform. Finally, plan and incorporate branded content for Pinterest into your social media content calendar.
Create boards that highlight your products or services in a creative and visually appealing way.
Be sure to populate your boards with high-quality images and infographics that will capture users' attention. In addition, include keyword-rich descriptions to help your pins show up in search results.
Make sure to promote your boards on other social media platforms and your website to drive traffic to your Pinterest page.
By following these simple tips, you can quickly create a winning Pinterest marketing strategy that will help take your business to the next level.
Pinterest Analytics
If you're a marketing professional, then you know that understanding your audience is essential to developing successful marketing campaigns. And when it comes to social media audiences, there's no better way to get to know them than through analytics. That's why Pinterest is such a valuable tool for marketing professionals.
With Pinterest Analytics, you can track your audience's engagement with your pins, learn what kinds of pins they're interested in, and get insights into where they are in the buyer's journey.
Businesses can use Pinterest Analytics to track the number of impressions their pins are getting, the number of saves and comments they are receiving, and the number of clicks they are getting.
Additionally, businesses can use Pinterest Analytics to track the demographics of their audience, including their location, gender, age, and interests.
By understanding this information, businesses can more effectively target their marketing efforts on Pinterest.
Pinterest success story
In recent years, Pinterest has become one of the most popular social media platforms
One company that has experienced success with Pinterest is IKEA. Today, remains one of the most popular brands on Pinterest, with 679,000 followers.
The company created a board featuring images of its products in beautiful homes, which quickly became one of the most popular boards on the site. In addition, IKEA ran ads that directed users to its Pinterest page. Thanks to this campaign, IKEA was able to increase its brand awareness and reach a new audience. As a result, the company saw a significant increase in sales.
Pinterest presents in success stories, the inspiration of IKEA as a company that is making great use of its application.
IKEA provides personalized inspiration through its boards, and now created a chatbot quiz that took people to a personalized Pinterest board, giving them ideas for their homes.
IKEA partnered with media agency Wavemaker and Ogilvy to create a personalized trial experience, called "Renovations," starting with a "Travel A.I.Gent" chatbot asking a series of questions to determine someone's favorite place to be, for example, on the beach, in nature or the park, along with an activity, and finally included product recommendations on Pinterest.
The company has also used Pinterest to drive traffic to its website and increase sales. In addition, IKEA's use of Pinterest has helped to raise brand awareness and build a loyal customer base.
IKEA continues to develop its strategy that includes all organic and payment methods.
Pinterest Marketing tips
Don't forget to take advantage of Pinterest marketing opportunities! Here are a few tips to get you started:
Create pins that are informative and visually appealing. Be sure to include keywords in your pin descriptions, so that people can easily find your content when they're searching Pinterest.
Research popular pins: Use the search bar and filter by most recent to find out what is currently trending on Pinterest. You can also use Pinterest Analytics to research the most popular pins related to your niche. This will give you an idea of the content that is resonating with users and help you to create similar content for your boards.
Create compelling visuals: To stand out on Pinterest, it is important to create visual content that is eye-catching and engaging. Be sure to use high-quality images and infographics that are relevant to your brand. Additionally, you can use Pinterest's built-in tools to create custom graphics or choose from a library of pre-made templates.
Incorporating your logo in a pin can help you stay top-of-mind with potential customers. If it makes sense for the brand and corresponds to Pinterest's marketing strategy, use logos as decoration on Pins so they don't get lost among other pins or hidden.
The key to effectively using Pinterest is consistency. Pinning daily will give you more exposure than creating a board and filling it up at once, so make sure that's how often you're posting!
To make your Pin more interesting and engaging, try different pin formats. Pinterest is all about images but it's not just a place to save pretty pictures! Mix the type of content you share on this social media platform by adding videos or carousels with multiple photos that showcase various pieces in one spot – these will encourage people who visit them (and maybe even follow!)
Optimize your pin descriptions: Just like with any other form of marketing, it is important to optimize your pin descriptions for search engines. Include relevant keywords and phrases in your descriptions so that users can easily find your content. Additionally, be sure to include a call-to-action in your descriptions to encourage users to take action.
Leverage user-generated content: User-generated content (UGC) is a powerful marketing tool, and it can be especially effective on Pinterest.
Engage with other users on Pinterest. Repin other users' content, leave comments and join relevant groups. By building relationships with other users, you'll increase the likelihood that they'll interact with your pins.
Following these tips will help you get the most out of marketing on Pinterest!
Have you tried Pinterest for your business yet? If not, now is the time! As we saw, Pinterest is a visual marketing tool that enables businesses to showcase their products and services in a visually appealing way.
By creating boards that feature images and videos of your products, as well as links to purchase pages, you can drive traffic to your website and increase sales. In addition, pins are often shared across social media platforms, giving your business even more exposure. So what are you waiting for?
Our team at The Digital Haus can help get you started. We have experience creating successful Pinterest accounts and can guide how to create boards that drive traffic back to your website. Contact us today to learn more!